Current date/time is Thu Aug 05, 2021 6:04 am
Search found 14 matches for Rema
#Omah
Lay wins "The Next Rated" Award at
#14thHeadies
Award show.
Stanley Omah Didia whose stage name is Omah Lay has emerged as the winner at the 14th Headies Award Show.
Omah Lay
Music newcomer, Omay Lay has pulled one of the biggest wins in the industry by clinching the juicy
Next Rated award at the 14th edition of Headies.
Omaha Lay was nominated for the category alongside
#Bella
Shmurda,
#Tems
,
#Oxlade
.
The young music star came to prominence in 2020 after the success of his EP, "Get Layd" on streaming platforms.
The Next Rated award at the annual Headies is a highly coveted prize won by the 'upcoming' act
who has shown the most promise in the year in review.
The winner also gets a car and joins an influential 'alumni' of previous superstar winners.
This year's edition was held virtually given the COVID-19 pandemic.
In 2019,
#Rema
beat other artists like
#Joeboy
,
#Fireboy
DML,
#Victor
AD,
#Lyta
, and
#Zlatan
to win the coveted prize.
by Adminkunlex

on Mon Feb 22, 2021 7:15 am
Search in: Celebrities
Replies: 0
Views: 94
The Year 2020 which ushered in a decade in the entertainment industry in Nigeria also remains one
of the busiest years in the industry especially the music sector. Despite the Covid 19 Pandemic and End Sars Protest that took place across the Country, Nigerian Artistes ensured they delivered good music to the ears of their listeners and music critics across the country and Africa at large. In this article, we examine the Top Ten Most Anticipated Albums in the Nigerian Music Industry for the Year 2021.
Most A-List Artistes dropped their projects in 2020 to rave reviews both locally and in the international scene as Spaceship and Atlantic
Records act,
#Burna
Boy also bagged his second Grammy nominations with his album " Twice as Tall.
These are the albums that Nigerian music lovers are looking forward to, in 2021.
1)
#Peruzzi
- DMW Act and Davido's Songwriter, Peruzzi announced his sophomore album "Rum & Boogie" will drop in November 2020. Due to some delays, the album did not drop in 2020. The album features Artistes like
#Phyno
,
#Davido
,
#Wande
Coal,
#Tiwa
Savage,
#Dremo
,
#Idowest
,
#Teni
and
#Fireboy
and one of the singles from the album "Southy Love" featuring Fireboy is doing well on the airwaves. The album is expected to drop in February, 2021.
2)
#Runtown
- Nigerian Singer Douglas Agu popularly known as Runtown inadvertently leaked
his album on
#Twitter
in September 2020 but he was able to quickly bring down the links. The 12 track album is tentatively titled "Sound God" and features Artistes like
#Bella
Shmurda, Hudson and Darko vibes. The music
#album
is expected to officially drop in 2021. The lead singles off the Album "Kini Issue" and "Body Riddim" are doing
well on the airwaves.
3) Bella Shmurda - "Sho ni Cc, Load Am". Bella Shmurda was one of the hottest artiste in 2020.
With features on Davido's 'A Better Time 'and
#Olamide
's 'Carpe Diem' Album and one of the hottest songs in 2020 titled "Cash App" featuring
#Zlatan
Ibile, many fans are craving for an album from the youngster. Bella Shmurda released an EP titled "High Tension" in 2020 to quench the thirst of his fans and has promised an album in 2021.
4)
#Rema
- Since he came into the scene in 2018, Divine Ikubor aka
Rema
has consistently delivered
hits.
Rema
has 3 EPs so far in his career and a string of hit singles like Dumebi, Iron man, Lady, Woman, Corny, among others. Divine Ikubor has since won an Headie Award, nominations for the
BET among other career achievements. Fans are expecting his debut album to drop under Mavins Records this year and he has confirmed same via his Twitter account.
5)
#Laycon
- The Rapper achieved widespread Fame when he won the BB Naija Lockdown Edition in 2020. He also dropped his debut EP "Who is Laycon" under the imprint of Fierce Nation Entertainment the Same Year. Laycon has promised his numerous fans a project this year and a lot of us are in anticipation of an album.
6) Mr P - Former member of the Psquare duo, Peter Psquare has since decided to launch his solo
career and his record label, P classic group after the duo decided to go seperate ways. He dropped his debut single for year 2020 in December titled "Follow My Lead" featuring Wande Coal. His debut
album tentatively titled "Euphoria" is expected to drop in 2021.
7) Teni - Teni Makanaki is one of the leading female acts in Nigeria and one of the few top female Artistes that didn't drop a personal project in 2020. With an impressive single run in 2020 like MJ remix with
#BadboyTimz
and Jo, the singer had hinted that her debut album will drop in 2021 and fans are seriously anticipating.
8 ) Paul Okoye - The Former Psquare member had massive success with his single " Audio money" which remains his biggest solo single. He is also working on his debut album which is expected to drop in 2021 same year as his twin brother.
9)
#Chike
- Chike warmed in way into the hearts of many Nigerians especially ladies when he released
his debut album "Boo of the booless". The album was released to rave reviews and acceptance.
Chike has stated in interviews that his sophomore project was already in the works while he was promoting his debut album and fans are eagerly waiting for the album to drop in 2021.
10)
#Oxlade
- Ikuforiji Abdulrahmann Olaitan aka Oxlade has been touted as the next Wande Coal in the Nigerian music industry. With smooth vocals,
fine looks and a charming personality, Oxlade is sure on his way to greatness. He dropped his
debut Ep " Oxygene" in 2020 and has hinted on an album to be released in 2021 as fans anticipate same.
https://naijatastic.com/page/discover?p=top-ten-most-anticipated-albums-in-2021
by Adminkunlex

on Tue Jan 19, 2021 2:11 pm
Search in: Musics & Lyrics
Replies: 0
Views: 111
Singers
#Burna
Boy,
#Fireboy
,
#Teni
,
#Laycon
and others have called for the release of their colleagues
#Omah
Lay and Tems in Uganda, Igbere TV reports.
Omah Lay and Tems were arrested by the Uganda police on Sunday.
They had performed on December 12.
Burna Boy in a tweet begged Uganda to release the singers.
"Uganda…Pls we need our people home and safe
#freetems
#freeomahlay
," he wrote.
https://twitter.com/burnaboy/status/1338493485016641536?s=20
"what is going on? @PoliceUg why are Omah Lay and Tems being mistreated?!
#FreeOmahLay
#FreeTems
everyone please let's create more awareness on this, it's no longer funny!" Fireboy wrote.
https://twitter.com/fireboydml/status/1338479649584795650?s=20
Teni said,
"
#FreeTems
#FreeOmahLay
WHY THE Bleep ARE THEY BEING DETAINED!!!! NA BOOK DEM BOOK THEM!!"
https://twitter.com/TeniEntertainer/status/1338490161328513026?s=20
In another tweet she said,
"They are not the organizers!!!! They shouldn't be held responsible."
https://twitter.com/TeniEntertainer/status/1338492141673254917?s=20
"WTF is happening in Uganda. Man facepalmingMan facepalmingMan
facepalmingMan facepalming
#FreeOmahLay
#FreeTems
," Laycon wrote.
https://twitter.com/itsLaycon/status/1338485253015527425?s=20
Laycon also added that,
"Wasn't there prior publicity about the show?
why wasn't it shut down before it was held?
why are you arresting some particular artists that performed? Who organised the show?
#FreeOmahLay
#FreeTems
."
https://twitter.com/itsLaycon/status/1338487953312636929?s=20
Others who reacted include Chike,
#Oxlade
,
#Rema
,
#Joeboy
and
#Ycee
.
by Adminkunlex

on Mon Dec 14, 2020 10:11 pm
Search in: Celebrities
Replies: 0
Views: 108
Mr Macaroni, a comedian; Sam Adeyemi, a senior pastor of the Daystar Christian Centre; and
#Rema
, Mavin Records singer, are among winners of The Future Awards Africa (TFAA) 2020.
TFAA had its first TV/digital edition, which doubles as the award's fifth anniversary, on Saturday due to the COVID-19 pandemic.
The annual event aired on Africa Magic, Pop Central, and MTV Base and featured appearances from Funke Akindele, an actress; Tara Fela-Durotoye, a beauty entrepreneur; and Wangi Mba-Uzoukwu, the channel director of M-Net West Africa.
See the full list of winners below:
Acting:
Jide-Kene Achufusi
Arts: Kingsley Ayogu
Content creation: Debo 'Mr. Macaroni' Adedayo
Entrepreneurship: Akomolafe Henrich Bankole
Film: Dafe Oboro
Leading conversations: Damilola Odufuwa
Music: Divine '
Rema
' Ikubor
Health and wellness: Chioma Nwosu
Disruption: Adegoke Olubusi, Tito Ovia, Dimeji
Sofowora
Lawyers: Georgette Monnou
Governance: Seun Fakorede
Intrapreneurship: Lehle Balde
Beauty: Doyinsola Afolabi
Journalism: Aisha Salaudeen
Literature: Toluwalase 'Logan February'
Akinwale
Fashion: Daniel Obasi
Activism: Hassana Maina
Community action: Derick Omari (Ghana)
Young Person of the Year: Ogutu Okudo (Kenya)
Service to Young People: Dr. Sam Adeyemi
https://lifestyle.thecable.ng/full-list-mr-macaroni-rema-sam-adeyemi-win-big-at-tfaa-2020/
by Adminkunlex

on Tue Dec 01, 2020 5:53 am
Search in: Celebrities
Replies: 0
Views: 52
Music producer and owner of Mavin Records
#Don
Jazzy has said he will be celebrating his 38th birthday with 20 fans who use VBank, Igbere TV reports.
The 37-year-old revealed this in an Instagram post also adding that the celebration will be sponsored by his VBank family.
He said he will be picking the winners on Monday night in an
#Instagram
live session.
"Forget about my legs my nipples and my head that is bigger than the Vbank cap first.
My birthday is on Thursday. And this time around I want to have dinner with 20 of you guys courtesy my @vbankng family," he wrote on Monday.
"Soooo you know to pick only 20 people is not gonna be easy. That said I am only going to be
picking people that use my bank. Join me on Instagram live tonight at 7pm when we will be picking our lucky winners."
https://www.instagram.com/p/CH7runRn5rI/?igshid=1tvmiua98k5ms
Don Jazzy has been a big promoter of VBank since it was launched.
Igbere TV reports that VFD Microfinance Bank unveiled the VBank product earlier this year with
the intention of making it Nigeria's first truly virtual bank.
Born Michael Ajereh, Don Jazzy has signed several artistes to his record label including;
#Tiwa
Savage,
#Rema
,
#Dija
,
#Korede
Bello, among others.
by Adminkunlex

on Mon Nov 23, 2020 7:58 pm
Search in: Celebrities
Replies: 0
Views: 80
Mavin Record ace singer cum rapper –
#Rema
has unlocked the official video to his hit single tagged
Woman.
The music was produced by Ozedikus but for the visual, it was directed by UAXStudios.
Join Our Telegram Channel for Latest Songs
Updates
Enjoy this video below!
DOWNLOAD HERE
by Adminkunlex

on Wed Nov 11, 2020 7:49 pm
Search in: Musics & Lyrics
Topic: [Video] Rema – Woman
Replies: 0
Views: 70
Talented singer
#Rema
has unlock a jam titled New Wave. This song was first released in 2018 when he
was still a newbie in the music industry with the stage name RNA (
Rema
& Alpha P).
Enjoy this fine track below.
DOWNLOAD HERE
by Adminkunlex

on Wed Nov 11, 2020 7:46 pm
Search in: Musics & Lyrics
Topic: Rema – New Wave
Replies: 0
Views: 61
Pop artistes
#Yemi
Alade,
#2Baba
and
#Rema
have delivered a beautiful rendition to celebrate Nigeria's 60th independence anniversary, Igbere TV reports.
Directed by Cohbams Asuquo, the three musicians sang the first stanza of the national anthem with joy and pride for the country.
The song was delivered through the initiative of Coca-Cola.
Marketing Communications Director, West Africa Business Unit, Coca-Cola, Monali Shah spoke on
the initiative.
She said:
"This Independence Day, we are championing an experience that we hope will leave a lasting positive mark on Nigerians.

Through the unifying power of music, the

#NaijaLikeNeverBefore

initiative will celebrate the generous heart, extraordinary energy, and buoyant spirit of Nigerians."
#Twitter
users have singled Yemi Alade out for praise over her vocal power.
by Adminkunlex

on Fri Oct 02, 2020 5:16 am
Search in: Celebrities
Replies: 0
Views: 79
#Rema
,
#Fireboy
,
#Burna
Boy features in FIFA 21 Soundtrack.
FIFA 21 announced that the sound track for the football simulation game FIFA 21 features Nigerian singers, Fireboy DML,
Rema
and Burna Boy and over 100 artists from 23 different countries.
The deal negotiated by EMPIRE Publishing & YBNL makes Fireboy the first Nigeria-based artist featured in the official FIFA 21 game soundtrack which is set for launch worldwide on the 9th of
October 2020, for PlayStation 4, Xbox One, and PC.
His song, Scatter is set to feature on the main game, which is a huge one for the singer.
Other Nigerians who feature on the Soundtrack are to feature on the Volta Football aspect of the game.
Rema
with 'Beamer' and 'Location' by Santan Dave, a British rapper of Nigerian descent.
'Location' also features Grammy-nominated Nigerian superstar, Burna Boy.
Below is the full list of singers set to feature in the highly anticipated game;
"At a time when our shared connections mean more than ever, the soundtrack to EA SPORTS FIFA
21 defines global culture like never before," said
Steve Schnur, President of Music, Electronic Arts.
"The days of borders – musically speaking – are gone. Our soundtrack goal is to change the way players around the world hear and experience football and introduce them to new music that will change their lives."
https://punchng.com/fireboy-rema-feature-on-fifa-21-official-soundtracks/?amp=1&utm_medium=Social&utm_source=Twitter&__twitter_impression=true
by Adminkunlex

on Tue Sep 29, 2020 6:43 am
Search in: Games/Apps (Java & Android)
Replies: 0
Views: 91
Pop singer
#Rema
has apologised to a man named Erica for stealing his laptop in 2017, Igbere TV
reports.
The musician born Divine Ikubor apologised via a tweet on Monday as he took to the platform to bare his mind.
"Eric, Sorry I stole your Laptop in 2017, I know you were trying to help me. My Mom had a
child on the way, I was the only man in my family. They made fun of her because she got pregnant, I wanted to prove them wrong bro, I had to do it," he wrote.
https://twitter.com/heisrema/status/1310543958708310016?s=19
He praised music producer Ozedikus for taking "risks" for him, saying
"all the beats Ozedikus sneaked are now HITS."
https://twitter.com/heisrema/status/1310542040153890819?s=19
The 20-year-old rose to stardom after signing with
#Don
Jazzy's Mavin Records in 2019.
Rema
, who performed at the finale of the 2020 Big Brother Naija show on Sunday, tweeted that Don Jazzy's brother D'Prince assured that he was the
"chosen one".
"I told D'prince sir I'm making money where I'm at I think I'm good. D'prince said to me stop what you're doing and come to me boy "you're the chosen one", this music shit is gonna pay if you trust me!
"I done made millions before this fame, let no man feel this money changing me," he wrote.
https://twitter.com/heisrema/status/1310531528041037824?s=19
Igbere TV reports that the Benin-born singer also thanked former US President Barack Obama for listing his single 'Ironman' as part of his favourite songs of 2019.
"Niggas don't wanna see a kid win, they feel I got it too easy. I shower with my sweat, we go off on this side like the days in BENIN it got nun to do with my deal, come and sign these papers without a hustler spirit, you gone lose! Management gone change my password now lol," he added.
Rema
severally faces criticism for his music genre.
He told critics one time that his kind of music was "Benin Lamba" and he was unapologetic about it.
https://igberetvnews.com/1366278/singer-rema-apologises-stealing-laptop-2017/
by Adminkunlex

on Tue Sep 29, 2020 6:09 am
Search in: Celebrities
Replies: 0
Views: 50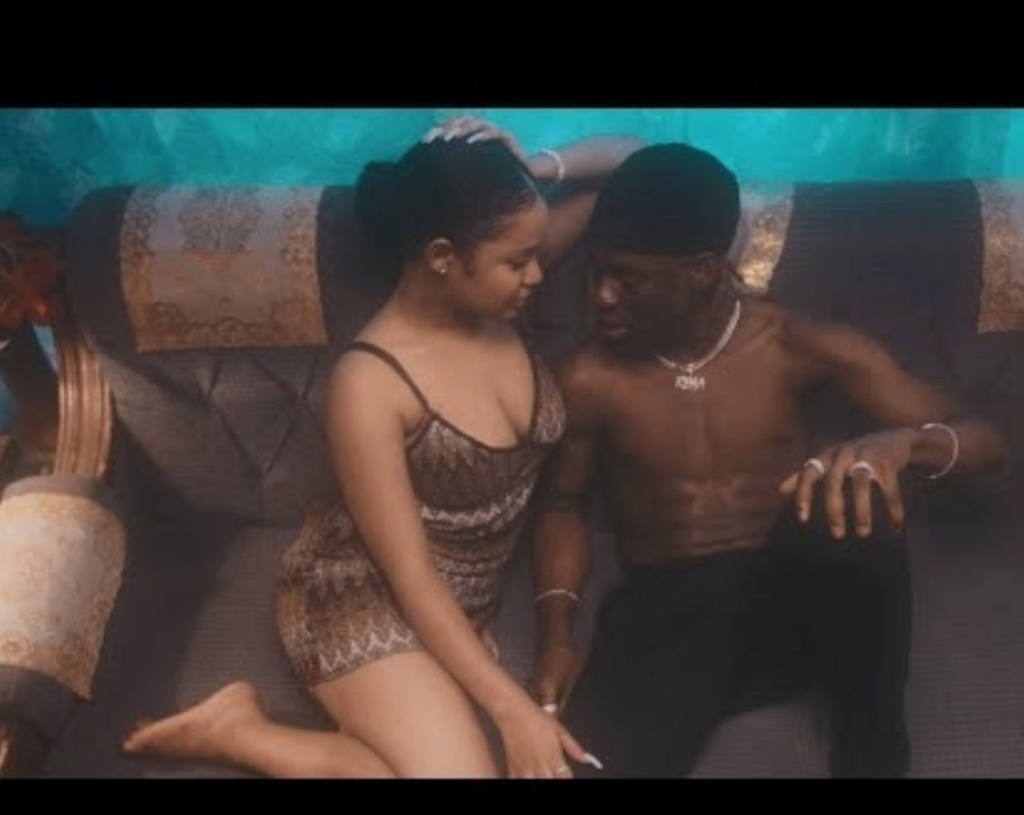 Award-winning Nigerian singer/rapper,
#Rema
dishes
out the official music video to his 2020 hit single "Ginger Me" which dropped back in June.
Watch and Download below
by Adminkunlex

on Fri Aug 28, 2020 6:52 am
Search in: Musics & Lyrics
Replies: 0
Views: 79
5. BLAQBONEZ
Emeka Akumefule, also known as
#Blaqbonez
is a Nigerian
#rapper
, signed to 100 Crowns, a hip hop label imprint of Warner Music Group African partner, Chocolate City (record label).
In 2019, he was profiled by the The New York Times alongside
#Teni
(singer), Odunsi (The Engine), and 3 others as the new guards of Nigerian music. He is widely recently known for his controversial self acclaimed status as the 'Best Rapper in Africa', which became the most talked about topic in the Nigerian hip hop space, between July and September same year.
In an interview with Punch, he stated the 'Best Rapper in Africa' was a response to a diss, and in his response, felt he needed to wake up all other rappers in Nigeria, and meant no disrespect to
#MI
and
#Vector
.
Adding to his achievements, Blaqbonez has three good and popular Albums [ "Bad Boy Blaq", "Last Time Under" and "Bad Boy Blaq Re-Up" ]
6. CRAYON
#Crayon
is currently signed to an imprint of Mavin Records; Blowtime Entertainment, owned by producer, Baby Fresh.
He made his first appearance in Mavin's All in order, featuring
#Don
Jazzy,
#Korede
Bello,
#DNA
, and
#Rema
.
Word on the street has it that Crayon's music is a blend of pop, afrobeats, latin and Caribbean rhythms.
Crayon the new kid shares a colourful slice of Afropop on this EP titled "Cray Cray". This project serves as his debut release under Mavin, smashing set of solo single well package with different infused vibe.
The EP contains six great songs [ Bamiloke, So fine, Unusual, Gock am, Confidence and Aye O ]
by Adminkunlex

on Sat Sep 28, 2019 2:18 pm
Search in: Celebrities
Replies: 3
Views: 236
Below is the Top 7 list of the most Popular, Young and Upcoming Nigerian music Artists.
1. REMA
Divine Ikubor (born in 2000), known professionally as
#Rema
, is a Nigerian singer and rapper. In 2019, he signed a record deal with Jonzing World, a subsidiary of Mavin Records. He rose to prominence with the release of the song "Iron Man", which appeared on Barack Obama's 2019 summer playlist.
Rema
released his first EP titled "
REMA
" , which features four smash hit singles "Dumebi, Iron man, Why and Corny"
Within a space of one month,
Rema
also released his second EP titled "FREESTYLE" , The Freestyle EP comprises of just four hit tracks.
2. FIREBOY DML
Adedamola Adefolahan known on stage as
#Fireboy
DML is an Afro-pop Nigerian artiste. He
hails from Abeokuta, Ogun.
He speaks Yoruba and English language
fluently.
Fireboy Dml taste of music is simply Afro with
a blend of country sound. Deep in, some
genres sounds like blues and it's unique.
The YBNL frontier, came into fame after the
Successful release of three mad jams "Jealous,
What if I Say and King"
by Adminkunlex

on Sat Sep 28, 2019 2:07 pm
Search in: Celebrities
Replies: 3
Views: 236
Mavin Records talented wonder kid,
#Rema
outputs a captivating new freestyle dubbed "This Fame".
The golden boy impresses once again and he shows us another proof why he is one of the best new talents in Africa.
Listen & Download "
Rema
– This Fame" below:-
http://naijaloaded.store/wp-content/uploads/2019/09/Rema-This-Fame.mp3
by Adminkunlex

on Sat Sep 28, 2019 2:41 am
Search in: Musics & Lyrics
Topic: Rema – This Fame
Replies: 0
Views: 121